-KhmerTimes/Sum Manet Thursday, 06 October 2016
Oxley-WorldBridge Cambodia officially signed a joint-venture agreement with Singapore-based Metro Global yesterday to establish a new property management company ‒ Metro Global Solution Cambodia ‒ to cater to the property sector growth in Cambodia.
"After selling condominiums, we want our customers to enjoy the lifestyle, hygiene, security and safety that Metro Global can provide, and that is why we reached the agreement with them," said Sear Rithy, CEO of Oxley-WorldBridge Cambodia.
"The company [Metro Global Solutions (Cambodia)] has a 51 percent of stake from Metro Global and the rest is from the Oxley-WorldBridge Cambodia," said Mr. Rithy.
He stressed that his company's investment in Metro Global Solution was more than just an injection of capital but rather an investment to provide better client services using expert human resources.
Jerry Xu, chief operating officer for Metro Global, said Cambodia's property sector was growing fast due to the country's robust economy. However, he added, this fast growth was at times unbridled with many property projects not having proper on-site management, for their buyers, after completion.
"There is a gap that needs to be filled and for that reason Metro Global has come to the Kingdom to offer our property management skills," said Mr. Xu.
"There is not much competition in Cambodia so far. The locals need us to bring something different for this market and with our professional services, maintenance, and essential security skills, we can lift up the property sector and maintain it well in Cambodia."
Early last month, Singapore's Oxley Holdings Ltd. ‒ through its local partnership Oxley-WorldBridge Cambodia – signed a memorandum of understanding with Metro Global to jointly manage the construction of The Bridge development project in Phnom Penh.
The Bridge, a 45-story development of condominiums, retail and shop houses, is expected to be completed by the end of next year, and according to Oxley-WorldBridge Cambodia's report, sales of the retail units which began in May "attained an impressive take-up rate of up to 52 percent."
Lifestyle property developer Oxley Holdings is expected to enjoy record-high profits from 2016 to 2017, according to a report by RHB Research. RHB said Oxley had $3.3 billion in total unbilled sales across its development projects in Singapore and other countries.
"This staggering figure will underpin record profits in the next two years," said RHB Research.
"It [Oxley Holdings] has also built up a sizable overseas portfolio with planned UK, Cambodia, Ireland, Malaysia and Myanmar launches in the upcoming months. The stock is one of our property sector top picks," said the research group.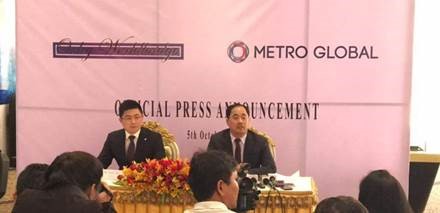 http://www.khmertimeskh.com/news/30440/oxley-metro-joint-property-venture/