– Phnom Penh Post, Thu 6 Oct 2016
Oxley Worldbridge and hospitality management company Metro Global have cemented their recently signed memorandum of understanding by yesterday linking a joint venture (JV) agreement which will see the hospitality management company oversee the maintenance and operations of the former's The Bridge and The Peak projects.
Singapore-headquartered Metro Global, which specialises in asset, property and hospitality management, said it promised to offer better quality services for the real estate sector in Cambodia under the partnership with Oxley Worldbridge. Under the JV, Metro Global holds a 51 percent stake and Oxley Worldbridge has the remaining 49 percent interest.
Sear Rithy, chairman of Worldbridge Group, which is building The Bridge and The Peak projects, said Metro Global is a high-quality, established and reputable property management firm which aligns with the core values of his company.
"It's been two years, and I have seen the potential of Metro Global. I have studied and found that in the future, Cambodia's real estate market will prosper. Therefore, I have decided to partner with Metro Global."
Explaining the potential of the JV, Rithy said, "We can learn from Metro Global because they have years of experience. Hence, I can manage my project, making it successful in Cambodia's property sector." He continued, "This venture is a key in attracting foreign investors to come to Cambodia."
"I don't want people to say that after the construction, The Bridge or the Peak is only good to look at first glance". He said. "I want the residents who live there to live in a modern environment, in a comfortable, well-planned, and safe community. That's why we need Metro Global because they are skilled."
He raised many examples in Cambodia about how some apartments, condos, office space or hotel developers finish their construction, yet because they don't have proper management, they have to manage their own services, which might make it uncomfortable and not up to standards for the residents.
While Metro Global operates throughout the Asia-Pacific, Europe, North America and the Middle East regions, the JV with Oxley Worldbridge represents its first foray into the Southeast Asian Market.
Metro Global's chief operating officer, Jerry Xu, said "Cambodia is an exciting, up-coming market that has much room for growth."
"With this growing economy, the Cambodian market needs something different," Xu said, adding "there's minimal competition at this stage."
Xu said the partnership with Oxley Worldbridge represented the firm's long-term commitment to not only the company, but also to the Cambodia market.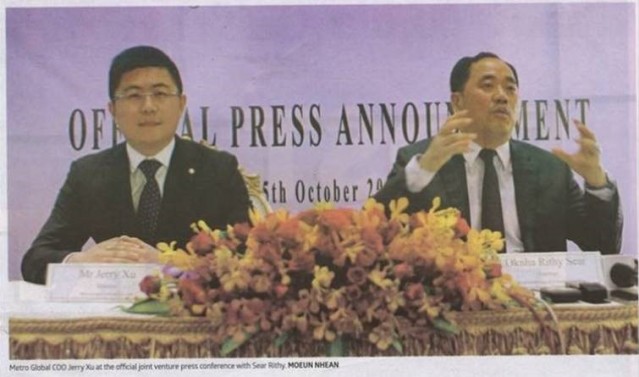 Metro Global COO Jerry Xu at the official joint venture press conference with Sear Rithy